Ai GROW is an evaluation tool that visualizes the personality and competencies of individual students. By incorporating mutual evaluation among friends, Ai GROW enables the visualization of capabilities, including non-cognitive abilities that are difficult to quantify.
Furthermore, the AI analyzes the results of each evaluator's evaluation and corrects for biases such as lenient or harsh evaluations, enabling Ai GROW to provide reliable and objective data on non-cognitive abilities and their growth.

✔️ Competencies(Capabilities) can be selected from a list of 25 items to accommodate differences in cultural backgrounds and the capabilities each school wants to nurture
✔️ Results are available immediately upon completion of the evaluation, allowing for feedback and program improvement without a time lag
✔️ Ai GROW can be taken as many times a year as you wish (takes about 10 business days to set up)
✔️ Ai GROW can be taken anytime, anywhere, so there is no need to take it all at the same time
How to Evaluate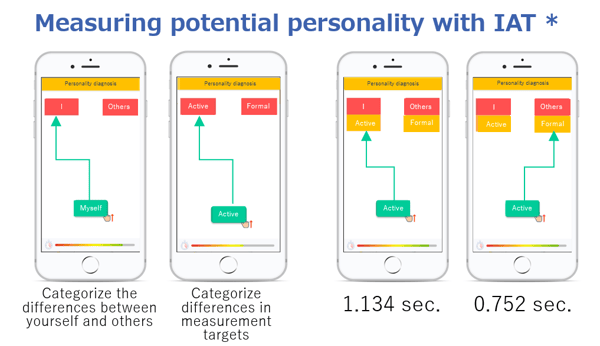 ▲Personality Diagnosis(IAT※)
※ Method measures the examinee's potential attitude /
most scientifically validated method of temperament diagnosis.
Operate the screen of a smartphone or tablet with your finger. Play a game to determine temperament by matching the words displayed at the bottom of the screen to the choices displayed at the top of the screen.In addition to the number of errors and the time it takes to answer, AI accurately determines temperament by analyzing the examinee's finger movements in 1/1000th of a second.
▲360° Competency Evaluation

The method of self-assessment and peer assessment is the same. In addition to the self-assessment, the examinee conducts an assessment of three friends. A probability model is used to calculate the examinee's competency score.
All evaluations will be conducted on smartphones or tablets.